Too big to fail.
At what point does a conference get too big that it can't be considered a success? Whether you are in sales, marketing or run your back office, if the sheer size of Dreamforce'12 didn't impress you, perhaps you need to check your business vital signs. With an estimated 90,000 registrants, Dreamforce's rock concert-like atmosphere gave attendees a preview of what's to come from salesforce.com in the next few months.  This included demonstrations of Marketing Cloud integrations with Buddy Media and Radian6, Chatterbox (a tool to sync files across devices), and Identity, which combines single sign-on with the ability to import data into Chatter.
As a marketer, I couldn't be happier that customer relationship management (CRM) is starting to take a back seat to these social marketing tools. Moves like this continue to show the importance of tracking every marketing dollar, even if it is spent socially, to accurately demonstrate ROI.  Force.com continues to be the development platform for many of their applications, as well as new applications developed by the partner community.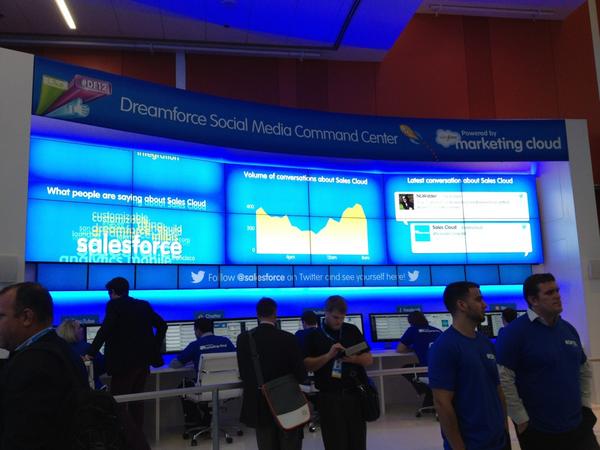 Regardless of whether or not it's too big to fail, it seems pretty obvious to me that DF12 was a success in its own right.  Salesforce continues to blaze the trail forward by integrating the latest tools in social media, training, and better sales – and this year's showing at Dreamforce proved that they will continue to bring together the "best of the best" digital tools to keep sales teams on the cutting edge with whatever useful solutions hit the market next.
At Blackboard, we are excited to be a part of the Salesforce movement with Blackboard Learn for Salesforce, our core learning and training platform designed for the Salesforce crowd.  Please take a moment to listen to our webinar where we discussed how your sales team can better align training programs and sales attainment by using this platform.
Check out more of our photos by viewing below or clicking here, and look forward to more posts this year on the ways Blackboard will integrate these exciting updates to Salesforce!